Interiors
Residential
Every day is a moment to enjoy elegant and seasonal blooms.
We offer a weekly floral program that is tailored to your home and style.
Our team will create unique designs each week to suit your space. We source only the most exceptional flowers of the season and design to make an impact in your home. For a consultation, inquire below. 
Interiors
Commercial
We also offer a weekly floral program for retail & commercial spaces that are custom tailored to fit your unique space or lobby.
We believe flowers add an elegant touch that can set the tone for any space, whether it be a hotel lobby, office, restaurant bar, or boutique.
Flowers have the ability to convey a positive brand image to clients and colleagues or create a welcoming environment for guests.  For a consultation, inquire below.
Client | christian louboutin
Below is an example of our weekly interior work for Christian Louboutin for their select New York City locations.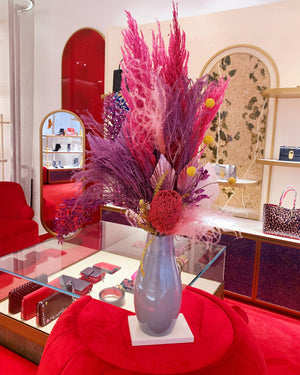 Interiors Inquiry
Fill out the form below and we will follow up with a consultation email. Please allow up to 72 hours for a response.